How does it work?
Prepare your package, create a shipment online, and print out a shipping label.
Schedule a pickup or drop it off at your convenient post office.
We will expect your package at our processing and distribution center. Once received, we will check it and repack it if needed.
We ship your packages to destination countries every week.
Notice! You cannot edit your parcel's content after you paid for its label. If you want to add something in the declaration, feel free to contact us at support@fulfilla.net or via online chat
Do I have to print out a shipping label?
Yes, definitely.
Shipping labels let postal services know how to get your package to our sorting center. Thus, please don't get confused when you see our center's address in place of the recipient's address. That's how the service works.

See below a USPS shipping label: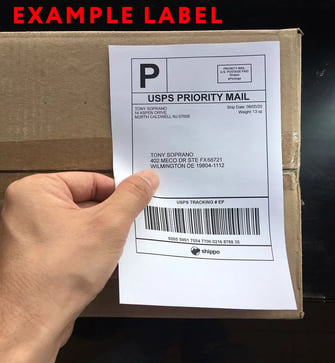 How can I schedule a pickup?
USPS Package Pickup is a free, next delivery day service.
After you paid the shipping cost on FULFILLA, you can schedule a pickup with USPS on
www.usps.com/pickup
How is the delivery done?
On its way to a recipient, a package goes through three different stages:

Delivery to our sorting center (First-mile)
When creating a package online, you can choose USPS or UPS as your first-mile delivery method.
Shipping preparation
Your package will be at out sorting center for some time, waiting for shipment. It will also be checked for any forbidden contents and repacked if needed. Usually, it takes from one to seven days.
Delivery to the destination country sorting center (last-mile)
In the majority of countries, you can choose either delivery by a local post office or DHL. All packages from the USA are shipped by air as it's the fastest and high-quality method.
What is the difference between the direct shipment through the USPS/other postal services and the delivery through your company?
How to pay for the shipment?
All package costs are paid after you create your shipment online.
Credit card payment are available.
Do I have to indicate the precise weight of my package at checkout?
Only approximate weight is needed.
Every package is weighed and measured again at the sorting center.
How long will it take to deliver my package?
It all depends on the chosen delivery methods of the first and last-mile.
How can I track my package?
The full tracking history for your package with updated statuses and any changes is available to you on the package page in your account. In addition, you can always copy the tracking number and input it to track your package on the carrier's official website.
What about the customs fees, limits, and taxes?
Usually, the recipient pays any customs fees and taxes. But if any additional fee is required from the sender at the last-mile delivery, you will be able to see it when creating your shipment.
Are there any guarantees?
All packages are covered automatically up to a value of $100. It's free!
If the value of the content exceeds $100, you can use additional protection, which cost is calculated by the following formula: 2% of the difference between the declared value and the default $100.
Shipment Protection Program
will be activated in the following cases:
Package loss
Package contents damaged
Package contents incomplete
The maximum payout is
$1500.
The package is lost/damaged/incomplete! What should I do?
Please contact our customer support. We will do our best to solve your issue. You will find more information about all possible situations on our
Shipment Protection Page